The Manawatu Wanganui Senior Team finished 2nd in the Central Nth Island Quad. On day one the team convincingly took care of Eastland 8 - 0 in the morning, before a very tight match against Taranaki ended with a 4.5 - 3.5 margin. Five of the eight matches went down the final hole, the difficult Par 3, 18th hole measuring 210m into a breeze. Of those five matches three players won the final hole, and the other 2 were halved, for the team to take out the match, so it was very close and could have easily gone the other way. Josh Munn's par down the last to his opponents bogey, earnt Munn a half for the team win.
This meant that a win on Sunday against a very strong Bay of Plenty team would secure a rare win at the event. BOP however is consistantly the best performed team in NZ over the past decade, winning the Interprovincial on a number of occasions, including last year, when they defeated us in the final, after a playoff to decide the title. They confortably beat both Taranaki and Eastland on day one, dropping just half a match for the day against Taranaki
The Juniors also had the similar equation on Sunday after defeating Eastland 3 - 1 and tying with Taranaki 2-2. BOP were undefeated on day one.
With both Manawatu Wanganui and BOP senior teams feilding a mix of both international players, and players with lots of Interprovincial experience, the match was always likely to be close and so it proved. Hayden Ring continued to show his strong matchplay ability by coming back from 4 down after to 5 to record a 3/2 victory. Hayden was unbeaten for the weekend, just to remind selectors of his matchplay consistency before the naming of the Interprovincial team. Mike Birchall and Jack Leenards, playing at 8 and 6 respectively were defeated in their matches leaving the top 5 players having to win 3.5 matches. Trent Munn had a good win over former international player Brad Kendall, however Junior Tatana was not at his best and was comfortably defeated. Lachie McDonald was playing some very strong golf throughout the weekend and was looking very good throughout his match against Victor Janin. However late in the match the BOP player holed 2 long bombs (putts) sending the match down the last where Lachie failed to match his opponents up and down, to finish all square. This meant both Josh Munn and Tyler Hodge required wins. Unfortunately an out of bounds from Tyler Hodge on the 17th meant his match ended there, meaning BOP were going to claim victory. Josh Munn however produced a brilliant chip in for a birdie on the final hole to defeat fellow NZ rep Peter Lee 1up, which was a victory Munn was determined to achieve.
In the Junior matchup BOP proved slightly too strong for our young players winning 3 - 1. Josh Sedgwick played some great golf to defeat his opponent 3/1 after struggling for form on day one. Greg Shaw rallied hard to take his match down the last, however well played 3's by both players meant a loss 1 down. At number one Rhys Harold was soundly defeated by a player that showed great form to be well under the card at the conclusion of the match. Rhys had 2 wins on day one, as did Nic Quantock-Holmes who was also out played by a steady BOP opponent.
Results: Round 1 | Round 2 | Round 3 | Final Points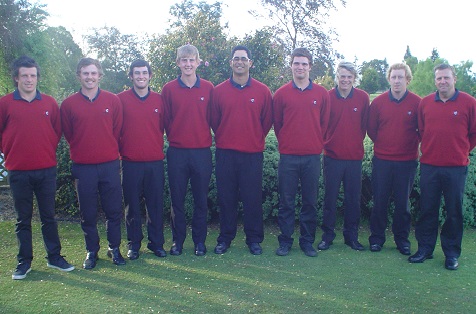 Players (left to right) Lacie McDonald, Josh Munn, Tyler Hodge, Michael Birchall, Junior Tatana, Jack Leenards, Trent Munn, Hayden Ring and Russell McDonald (Manager)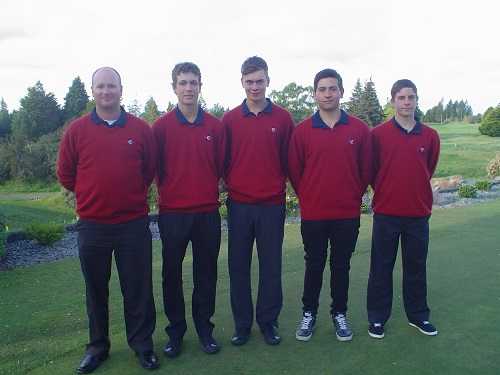 Junior Team: Rhys Watkins (Manager), Josh Sedgwick, Nic Quantock-Holmes, Greg Shaw
"