Four golfers from the Levin Golf Club Regional tournament have qualified from the Manawatu/Wanganui District to the National Final of the Junior Tiger at the Manawatu Golf Club on April 21.
The four golfers to progress from the categories of 11 and under (girls and boys) and 12 – 14 (girls and boys) are: Tara Raj (Wanganui Golf Club), Mitchell Procter (Manawatu Golf Club), Rose Wu (Palmerston North Golf Club) and Greg Shaw (Manawatu Golf Club).
The total number of junior golfers involved in the day was 77 and they were well supported by around 100 parents as they tried to win their District event or gave golf a go for the first time.
The winner of the Junior Tiger Boys 12 - 14 Division was pleased to be heading to the National Final. Greg Shaw had to do it the hard way after a tie with fellow Manawatu Junior Campbell McHugh on 35. The players had to go to sudden death playoff to decide a winner, with Greg victorious after a superb tap in birdie. Campbell's birdie putt scraped the edge of the hole.
Greg first played the Junior Tiger three years ago as a 10 year old, having never played golf before. Just before that event Greg and his father went down to Cash Converters to purchase some golf clubs for Greg to play with. Three years later and he is now on a 2 handicap and likely to be a major contender at the Junior Tiger final on his home course next month.
The day was a fun day out for all the family with MoreFM providing local entertainment for the junior golfers involved.
New Zealand Golf began its hunt for the 2013 Junior Tiger this weekend at clubs all around New Zealand. The young golfers are playing for the chance to represent their district at the national final and potentially travel to the United States to represent NZ in the World Junior Golf Championship.
Junior Tiger is a NZ Golf initiative designed to promote the game to young people as an affordable and accessible sport. Since the series was introduced in 2009 has proven to be a very popular initiative.
The Junior Tiger series is as much about taking part as it is winning. Golfers of all abilities are encouraged to give golf a go on the day.
"It is great to see that many players starting out playing golf who played the first Junior Tiger event are back again playing Junior Tiger this year as regular golfers vying for a spot to the National Finals and hoping to win their way to Disneyland and the Junior World Championships," said New Zealand Golf High Performance Coordinator Liz McKinnon.
McKinnon said that there are a number of players who have gone on from Junior Tiger to achieve great things in golf.
"Lydia Ko is a great example who was a national winner in 2009 and is now the World No. 1 Women's Amateur."
Every junior golfer who entered the qualifiers around the country on March 24 goes into the draw to win a trip to Disneyland with a family member courtesy of Harvey World Travel.
Manawatu/Wanganui District Qualifiers
11 and under Boys: Mitchell Procter (Manawatu Golf Club)
11 and under Girls: Tara Raj (Wanganui Golf Club
12 – 14 Boys: Greg Shaw (Manawatu Golf Club)
12- 14 Girls: Rose Wu (Palmerston North Golf Club
Listen to Audio - Interview with Greg Shaw on More FM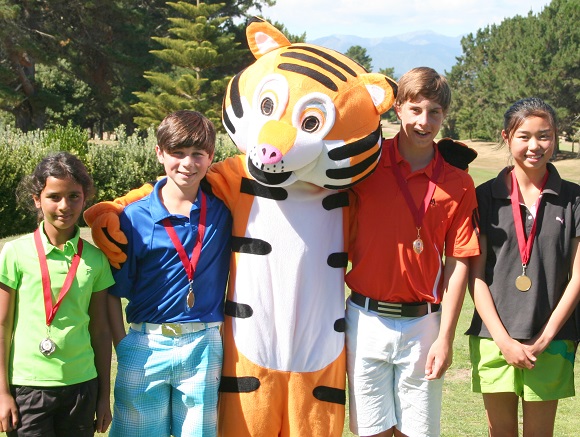 "