Palmerston North Golf Club hosted the first district OOM series event yesterday, the mens Joe Kells Memorial and the womens PN Classic.
The mens event was won by Palmerston North golfer, Junior Tatana, with rounds of 71 & 71 for a 2 under total. Second place was shared by Regan McConaghty (76, 96) and Regan Cording (75, 70), 3 shots back from Tatana. In 4th place was Feildings, Liam Finlayson, with rounds of 74 & 73, one shot clear of Ewan Westergaard (76, 72).
Tatana this year is eligible for both the Toro interprovincial and Freyberg Masters Interprovincial, so we will hopefully see him playing in both those teams.
In the womens division, the PN Classic, Levins, Brydie Hodge won by 4 shots with rounds of 83 & 76. Hodge had an exemption to use a golf cart, due to a sprained ankle, so showed her class by still being able to win while injured. In second place was Manawatu's, Mudra Lakhani (81, 82) followed by Manawatu's Tania Hook (82,83). Wanganui's Tara Raj, who possibly would have challenged Hodge for the win, had to withdraw from the event due to illness.
After consistent rain throughout Saturday the course was left very waterlogged, but the greens staff did a great job to get the course ready for play on time. The greens staff also had another factor to contend with with an algae sitting on the greens surface, which presents as a green slime. Some golfers were left wondering if they should have been calling Ghostbusters. Most of this was brushed off the greens but on some greens the slime returned as it was walked over. It did not however make a major difference to putting, although many players struggled to hole putts throughout the day.
The Joe Kells Memorial had been a long standing event at Palmerston North Golf Club up until 2010. It was great to see the event back again, and now part of the district Order of Merit, which helps to ensure a quality field of many of the districts top players. Fowler Homes, Shane Walker, sponsored the event, which ensured a fantastic prize table. This should see the event back as a permanent fixture on the district calendar. Congratulations to Palmerston North Golf Club for a very well run event.
Click here to see mens full gross scores
Click here to see womens full gross scores
Below: Junior Tatana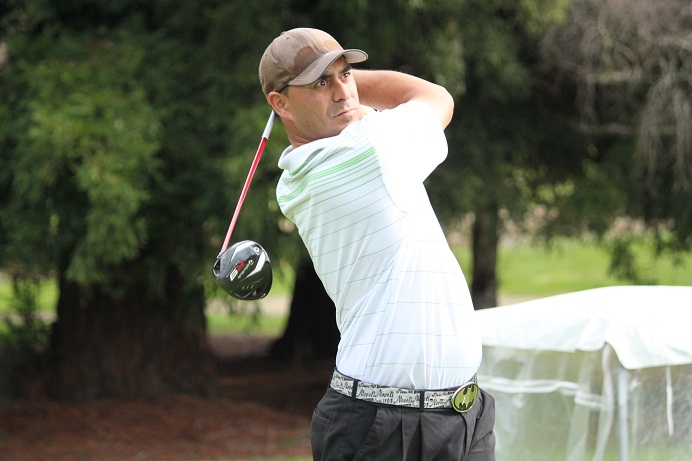 Below: Brydie Hodge