The annual junior development quad was held over the past couple of days at Marton Golf Club between Wellington, Taranaki, Hawkes Bay and Manawatu Wanganui. Each team competes in round robin matchplay competition against the other teams. A girls event is also played with a stroke round of qualifying followed by 2 rounds of seeded matchplay. All golf is off the stick, so do not involve handicap. The players are all under 19 years of age, and the youngest this year was 9 years of age. Many of the players were playing in their first event of this type, so it is a great event to expose them to representative matchplay competition.
The girls competition was taken out by Manawatu's Lily Griffin, who was top qualifier with an 81, and then went on to win her matches comfortably, with the final against fellow Manawatu Wanganui golfer, from Foxton, Gizaria Knowles. The three Hawkes Bay girls who would have all been competitive, ended up competing in the boys team competition after a few players withdrew late from their team. In 2018 the event will likely become a fully mixed team competition only, which will be good for the event.
The team event was reasonably even through all of the rounds, and all matches finished close, and could have easily swung the other way. In the end Wellington showed slightly more experience in being able to finish off the closer matches better than the other teams, and won the event for the second straight year. Manawatu Wanganui and Hawkes Bay shared second and could not be separated in points or number of individual games won. Their match in the final round was shared 5 all. Taranaki finished 4th, but did push all the other teams very close in every round.
For Manawatu Wanganui ,Castlecliff' player Jack Donaldson was the most successful in the teams event winning all 3 of his matches, in his first representative competition. All other players contributed with at least one individual win, which was great to see. We are hopeful that we will see future Toro Interprovincial players emerge from this squad.
In the girls section Lily, Gizaria and young Sera Raj all performed very well representing Manawatu Wanganui.
The event was once again another success, and huge thanks must go to Marton Golf Club for supporting the event, Huntley School for accommodation, and the managers, supporters and players for making the event possible.
Click here to view full results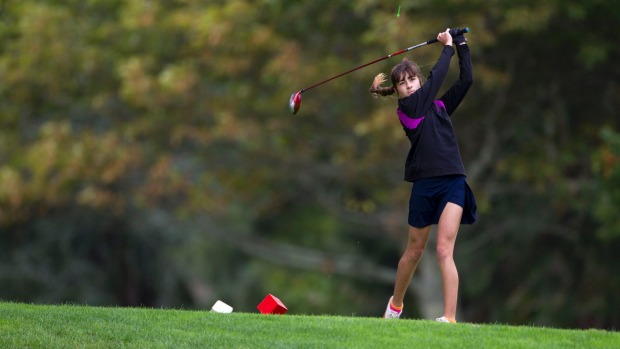 Lily Griffin - Girls matchplay winner
More images to come