The Ricoh Wanganui Open was played yesterday in fine conditions on Wanganui's Belmont course. Most people would have expected some good scoring given the conditions, however this did not prove to be the case. The greens were quick, and many players struggled to handle the course, which is well known to be difficult at times.
The best men's gross was shared by 3 players, Junior Tatana, Regan Cording and Tane North at 150 - 10 over par. In the playoff, Cording went out on the first hole, and Tatana and North ended up sharing the title as darkness fell before a result could be decided. Congratulations to those players.
The womens division was very one sided with Wanganui's Tara Raj, and current Manawatu Wanganui number 1, winning by 20 shots, after rounds of 77 and 79. Tara is just 13 years of age, and is continuing to make improvements to her game, which could see her dominate the local golf seen for many years to come, unless others can step up to the mark, or other juniors come through to challenge. Manawatu's Lily Griffin showed that she also has some real promise. At just 14 years of age she was playing in her first big district open event, and finished 3rd, just one shot behind Tania Hook in second..
The next event on the Order of Merit is the Challenge Cup (Manawatu Wanganui Strokeplay) to be played on Sunday September 11th and Rangitikei GC.
Note: Since publishing this article Junior Tatana has discovered an error in one of his rounds, and therefore disqualified himself from the event. Junior is very disappointed that he did not pick this error up on the day, and is apologetic for any inconvenience this may have caused. While this is unfortunate, we would like to thank Junior for being honest about this error once discovered. This is an example of what makes our game so great - when players can make this call on themselves.
As a result Tane North will now be the sole winner of the title. Results and OOM rankings will be updated.
Click here to see Men's Wanganui Open results - to be amended
Click here to see Women's Wanganui Open results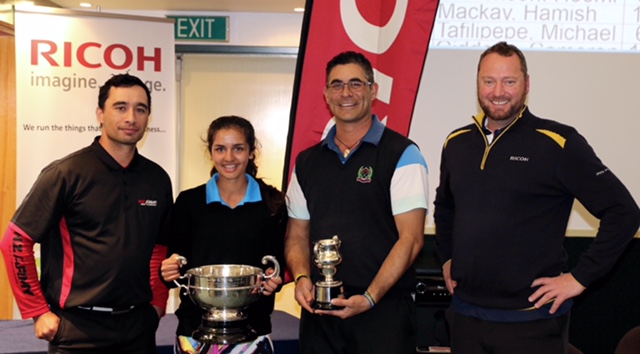 Left to right: Tane North, Tara Raj, Junior Tatana, & Stu Thornton (Ricoh)