The latest Manawatu Wanganui representative match, the Shand Cup and Sybil Green, was played at the weekend at Hawkes Bay Golf Club in Hastings. The event includes 8 Senior women, 10 Senior Men and 4 Junior boys all playing for different trophies, against Wellington, Hawkes Bay and Taranaki.
The best performed of the teams from Manawatu Wanganui was the Boys team of Josh Sedgwick, Liam Finlayson, Greg Shaw and Jayden Hunter, who cleaned up their opposition and dropped just 2 individual matches overall. Josh Sedgwick and Liam Finlayson at 1 & 2 both finished unbeaten. The team won the Shand Salver trophy.
The Senior mens team without the normal top 2 of Josh Munn and Tyler Hodge, had a very close contest overall, and narrowly missed winning finishing 2nd. Wellington won the event, 1 point clear of Manawatu Wanganui, but with less individual games won. Manawatu Wanganui had a disappointing match against Wellington going down 6 - 4. In the final round the team had to rely on beating Taranaki and Wellington either tying or losing to Hawkes Bay. While we beat Taranaki 6.5 - 3.5, Wellington defeated Hawkes Bay by the closest of margins 5.5 - 4.5. Another half match to Hawkes Bay and Manawatu Wanganui would have won the event. Unbeaten for Manawatu Wanganui was Number 1 Lachie McDonald, number 6 Michael Birchall, and number 9 Guy Perry.
The women's team went to the event with a relatively inexperienced line up for this level of competition. Unfortunately the top 4 girls from last years Interprovincial were all unavailable to make the trip to Hastings. This put some of the regular competitors such as Karen Manninen, Jenny Ritchie & Jill Hall a little out of their normal positions. Jill Hall however stepped up with two wins on day one, playing at number 4. The youngest player and up an coming Junior Katherine Paskins played at number 5, and also performed well with a win and a half on day one. Most of the team members were able to contribute with at least one win, but t although close on day one were not able to manage a team win to finish and finished in 4th place. Taranaki eventually won by having superior individual games won over both Wellington and Hawkes Bay.
The Interprovincial teams for the main Toro Interprovincials will be selected over the next few weeks. The last strokeplay trial, the Mortgage Link Manawatu Open, is on this Sunday, and will be followed by some warm up matches against neighbouring districts, and the SBS Invitational for the Mens team, before the teams travel to Hamilton for the Interprovincial Championships. The Mens team will have another strong line up in defense of last years historic win, while the Girls team will have all players back and available to contest their event at Lochiel.
Click here to see the full results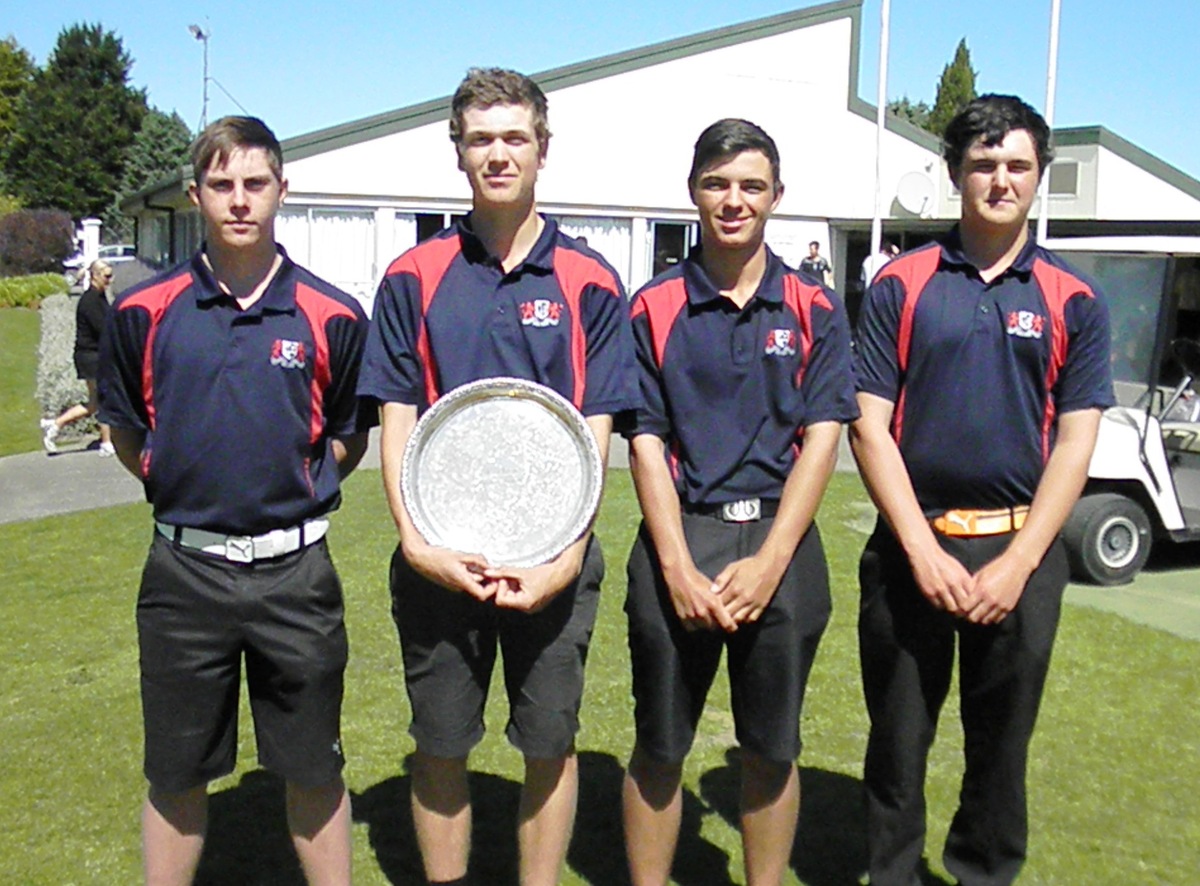 Winning Shand Salver Junior team from left to right: Greg Shaw, Josh Sedgwick, Liam Finlayson & Jayden Hunter.