Manawatu Wanganui selectors have named teams for the upcoming Shand Cup & Sybil Green to be played at Hawkesbay Golf Club in Hastings. A large team of 10 senior men, 4 junior boys and 8 senior women compete at this annual event against teams from Wellington, Hawkes Bay and Taranaki. The event take place on 11/12 October.
Senior team playing for the Shand Cup: Lachie McDonald (Marton), Tyler Lock (Castlecliff), Rhys Harold (Palmerston North), Junior Tatana (Foxton), Stu Smith, Michael Birchall, Rhys Watkins, Regan McConaghty (all Manawatu), Marty Field (Rangitikei), Guy Perry (Manawatu). Non travelling reserve: Mike Arnott (Wanganui)
Junior boys team playing for Shand Salver: Josh Sedgwick (Manawatu), Liam Finlayson (Feilding), Greg Shaw (Manawatu) & Jayden Hunter (Feilding). Non travelling reserve: Casey Jensen (Manawatu)
Womens Senior team playing for the Sybil Green: (not in playing order) Colleen Winstanley (Manawatu), Jenny Ritchie (Marton), Jill Hall (Rangitikei), Karen Clark (Taihape), Karen Manninen (Manawatu), Katherine Paskins (Palmerston North), Lisa Cotton (Pahiatua), Rebecca Hooper (Manawatu). Non travelling reserve, Carron Thompson (Wanganui)
A number of players were unavailable for this event including the top 2 men, Josh Munn and Tyler Hodge, who are both playing top amateur tournaments in Australia as part of NZ squads. In the womens team the top 4 girls from last years interprovincial team, Brydie Hodge, Emma Clayton, Amber-Rose Thompson-Newth and Leanne Corbett are all unavailable due to other commitments.
This will give some players who would not have made the team an opportunity to compete, and show selectors that they are up for the Challenge.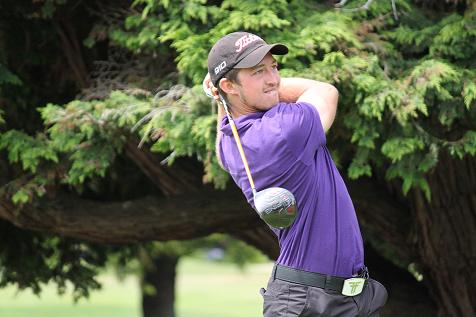 Tyler Lock - Showing good form this year in OOM
Freyberg Masters team
The Manawatu Wanganui selectors have also named the Mens Masters team to play in the Freyberg Masters at Waitangi Golf club in early November. That team is Stu Smith (Manawatu), Marty Field (Rangitikei), Tony Chettleburgh (Palmerston North), Mike Arnott & Rick Harding (both Wanganui). The non travelling reserve is Ross Geary (Rangatira).