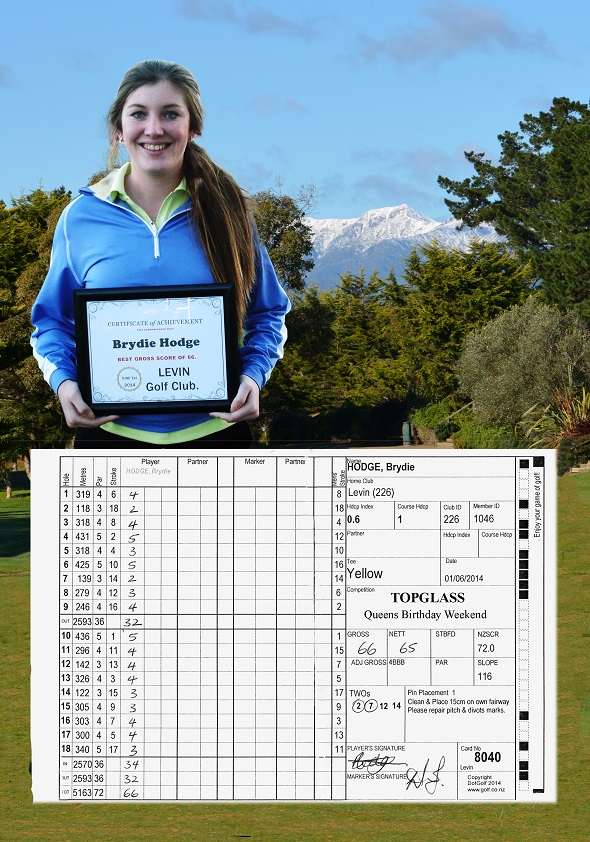 Two of our districts top Juniors had great results over the Queens Birthday weekend. With little on in the way of big events around the country, players tend to work on their games and compete in events closer to home at this time of year.
Rhys Harold from Palmerston North Golf Club played in the annual Queens Birthday Matchplay at Feilding on Saturday and Sunday. Rhys was in the top group which also included a couple of old timers, Rodney and Michael Baltrop, who can still teach most golfers a thing or two about how to get round a course. Rhys won the final against Michael Baltrop 1up. A superb result.
Great to see players of the calibre of Rhys, supporting local club events.
On Monday Rhys travelled to Otaki Golf Club to play in the annual Sims Cup Junior competition. This is an event that features the best Wellington players, and a group from our district. Rhys won the day with a superb score of 68, to top off a very good weekend.
Meanwhile, Brydie Hodge of Levin Golf Club, had a great weekend of scoring around her home track. On Saturday Brydie fired a new course record of 66, featuring 5 birdies, an eagle and one lone bogey. On Monday Brydie backed up her first ever bogey free round, with 17 pars and one birdie. Great to see not only some excellent scoring, but fantastic consistency. Well done Brydie.
Both Brydie and Rhys should play a big part in the district rep teams later in the year, so it is encouraging to see some form early on in the season.
The next big event for rep hopefuls on the local calendar is the 36 hole Horowhenua Open being played at Levin on July 27th. This will be the first event of the open district order of merit series.
Below show's Brydies hole by hole scores over the weekend: