On Sunday 24th November the Manawatu Wanganui lady golfers held their season's pinnacle event, The Champion of Champions trophy, at Castlecliff golf club. The sun shone on all the players, as the weather was beautiful throughout, but it shone particularly on the home club which won the Best Nett Team Event event for the first time since the trophy was first played for in 1993.
Clubs from throughout the region, 14 in all, send their individual champions from Silver, Bronze1 and Bronze 2 as well as their Bronze 1 runner up, to compete in a gruelling 36 hole individual and team event. Scores from the team members are used to find the individual "Champion of Champions" in each grade and then collated to find the overall "Champion Club" for the region.
The Castlecliff team pictured below consisted of Ann Carroll, Amber-Rose Thompson-Newth, Barb Cornor, and Lady Captain Carol Kenny.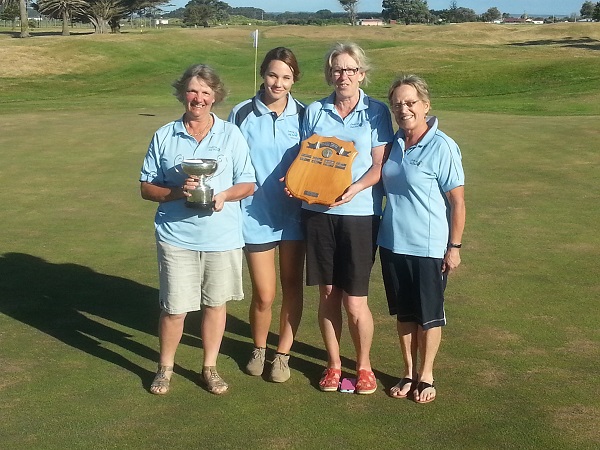 Results from Womens' Champion of Champions at Castlecliff November 24th

Silver 1.
1st: E Clayton ,Manawatu 156
2nd A Thompson Newth, Castlecliff 158.
1st Nett P Clark, Taihape 141

Bronze 1
1st A Carrol, Castlecliff 182
2 nd C Braddick, Eketahuna 185 .
1st Nett J Burgess, Apiti 142

Bronze 2.
1st T Raj, Wanganui 93
2nd J Anderson, Eketahuna 99 .
1st Nett L Tipu Hawkestone 61.

Champions Nett Shield, Castlecliff , A Thompson Newth, A Carrol, C Kenny 370.

Gross Stableford Rosebowl
1 Marton, J Ritchie, S Jensen, R Williams. 126
2 Manawatu, E Clayton, V Worker, J Gain . 124

Most improved Junior, Katherine Paskins, Palmerston North.
"